Recruitment freeze 'puts police at risk'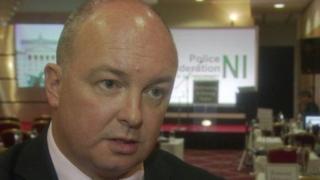 A "freeze" on recruitment is putting policing in Northern Ireland at risk, as 30 police officers are leaving the PSNI every month, says the Police Federation for Northern Ireland (PFNI).
The reduction in officers will "increase pressure on colleagues, impact on health and lead to a deterioration of service", it says
Dep Ch Const Drew Harris has said new recruitment will begin in April.
Police "will continue to be there for people in their time of need", he said.
However the PFNI said that up to 200 will retire or leave by the end of June, during which time there will be no replacements graduating.
The chairman of the PFNI Mark Lindsay said issues of "service resilience and delivery" have been raised.
'Consequences on mental wellbeing'
Mr Lindsay said: "There are inherent risks here. Fewer officers will mean increased pressures on colleagues.
"More and more will be expected of them with knock-on consequences on their physical and mental wellbeing, and intolerable pressures on their families.
"In addition, we have seen the pressures manifest themselves in terms of service delivery.
"This situation needs to be addressed, and addressed with some urgency. I know politicians are distracted at present, but they must take action to stop the erosion and undermining of the PSNI."
Dep Ch Const Harris said: "The Police Service of Northern Ireland student officer training programme was suspended in August last year pending the completion of a review into officer training at Garnerville and subsequent implementation of the recommendations.
"Over half of the recommendations made by the review team have been implemented and we are totally committed to ensuring all actions are addressed as soon as possible.
'Committed to keeping people safe'
"The PSNI has now restarted appointing student officers from the existing merit list, with a maximum of 51 per intake, scheduled every five weeks. We expect to appoint approximately 450 student officers during this calendar year.
"We anticipate that a new recruitment competition will begin in April 2017.
"We remain committed to keeping people safe and we will continue to manage our resources and prioritise them against threat, risk and harm in line with our policing plan.
"Routine policing continues and we will patrol in vehicles and on foot, carry out searches and arrest criminals.
"The public will continue to see police on a daily basis."