Man arrested after knifepoint threats in Newtownards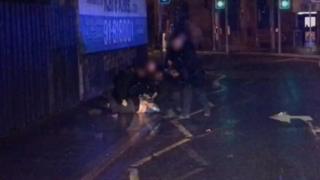 Staff at business a premises in Newtownards, County Down, have been threatened by a man wielding a knife.
Police were called to Regent Street in the town shortly after 21:00 GMT on Satuy following threats made in the business premises and at members of the public on the street outside it.
PSNI officers saw the man threaten pedestrians on a nearby street.
"The male was restrained and subsequently arrested," the PSNI said in a statement.
Bus driver Peter Knight, who witnessed the incident, said he encouraged members of the public who were standing on the street to board his bus for protection.
"There were people standing around, most of them were waiting on various buses, so I told them to just get on my bus and closed the doors until he was arrested," he said.
The 19-year-old is being held on suspicion of attempted robbery and possession of an offensive weapon.