Poleglass alert ongoing: Brians Well Road remains closed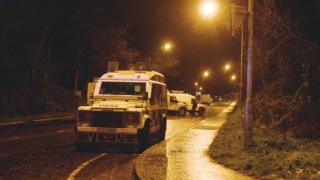 A security alert on the outskirts of west Belfast is ongoing.
Officers are searching land in Poleglass, after receiving a report of a suspicious object in the area.
A section of Brians Well Road was shut shortly before 18:10 GMT on Saturday. There are no reports of homes being evacuated.
A PSNI tweet said nothing had been found so far and asked for local residents' "continued patience".
SDLP councillor Brian Heading told BBC News NI that he had been speaking to the PSNI about the security operation as early as Friday night.
"I understand that police are still investigating that report of a suspicious object," Mr Heading said.
"This is tying up PSNI resources, which could be used to combat drugs offences and anti-social behaviour."