'Threats made' to relative of couple hurt in Belfast shooting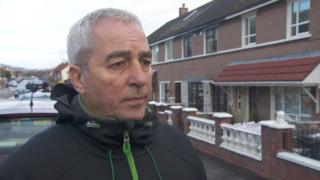 Threats have been made against a family member of a couple who were shot in their west Belfast home last Thursday, a Sinn Féin MLA has said.
The husband and wife were both shot in the legs at the house in Norglen Parade as they tried to protect their son from paramilitaries, it is understood.
West Belfast MLA Pat Sheehan said the threats against their relative had piled "insult on top of injury".
He called on those responsible to "lift the threat immediately".
Mr Sheehan knows the couple who were shot several times when a gang of masked and armed men entered their family home in Turf Lodge on Thursday night.
He said the threat "beggars belief".
"It is despicable that this man and woman were shot in their own home in the first place. They have done absolutely nothing wrong unlike the armed gang who shot them."
The MLA added: "Those responsible have nothing to offer this community and I call on them to lift the threat immediately and get off the back of the people of Turf Lodge."