Call for 'illness service' health tsar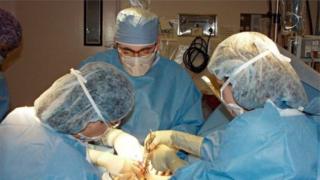 A leading GP has called for a chief executive to be appointed to run NI's health and social care bodies.
Health Minister Michelle O'Neill had been expected to announce a new strategy this month for tackling hospital waiting times.
But she said on Thursday that next year's budget has not been agreed and plans to secure funding have failed.
Dr George O'Neill hit out at the impact political instability at Stormont could have on the health service.
"We have an illness service," he said.
"We don't have a health service. We don't invest in prevention, we don't invest in health promotion.
"We don't look at the wider determinants that decide your health and well-being.
"So we have to start thinking about doing something different and radical.
"We should take politics out of health totally, we should end up appointing a chief executive in charge of the health and social care bodies," he added.
In response, Michelle O'Neill said she had already put out a plan on how to transform the system, which was a long-term solution for dealing with waiting lists.
"In the short term, what I wanted to do was also set out, in terms of the waiting list plans, how I would build capacity within the health system.
"Previous ministers have thrown money on to the independent sector which dealt with waiting lists in a one-year period, we need to have a real meaningful transformation process which would actually deal with waiting lists every year.
"I don't want instability, I am a health minister who wants to deliver.
"I have a budget up until March, I am continuing to deliver in relation to that," she added.