Barack Obama could return to Ireland in the 'next 12 months'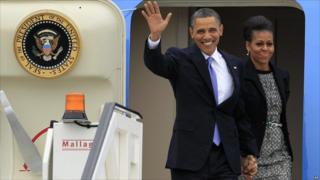 The outgoing US President Barack Obama could visit Ireland again after he leaves the White House, the US Ambassador to Ireland has said.
Kevin O'Malley told RTÉ's Marian Finucane Show that he expects the trip to happen within the next 12 months.
Mr Obama visited Ireland in May 2011.
During the trip, he went to his ancestral home in the small village of Moneygall, Co Offaly.
Mr O'Malley paid tribute to President Obama as a "spectacular leader and role model" whose "character is impeccable".
"The last sentence that President Obama said to me on Wednesday of this week when we were saying goodbye was 'please tell them (Ireland) I'm coming'.
Mr Obama will officially leave the White House when President-elect Donald Trump is inaugurated on 20 January.