Health charity calls for NI cancer strategy as waiting targets are missed again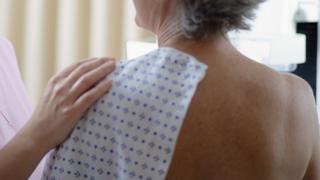 Targets for cancer waiting times have again been missed in Northern Ireland.
The latest official figures show that in September 2016 only 63.3% of patients with an urgent GP referral for suspected cancer started their first treatment within 62 days.
That figure is down from more than 70% in July.
The target is 95% and all of Northern Ireland's health trusts missed the target for the last quarter.
The Health and Social Care Board said that most people referred because of suspected cancer will not have cancer but they do need access to the necessary investigations including scans, endoscopy investigations and laboratory tests and the demand on such services is increasing.
"The HSCB recognises the need to improve the timeliness of patient care and is investing in diagnostic services to improve access," said a spokeswoman.
'Failing patients'
There has been a rise in the percentage of patients seen within 14 days after an urgent breast cancer referral.
In September, 95% of patients were seen on time - although the target is for all women to be treated within this time.
The HSCB spokeswoman said: "The HSCB and Public Health Agency (PHA) are committed to working with Trusts to ensure that people with suspected cancer are seen, assessed and treated as soon as possible, consistent with the Ministerial targets.
"For the quarter ending September 2016, nine out of ten patients diagnosed with cancer commenced their treatment within 31 days of being diagnosed - consistent with the previous 3 month period."
Margaret Carr of Cancer Research UK said Northern Ireland was the only part of the UK without an up-to-date cancer strategy, and that it was time for that to change.
"Cancer services in Northern Ireland are failing some patients," she said.
"Cancer is Northern Ireland's biggest killer. The lives of patients depend on swift, efficient and effective access to cancer services. Every extra day waiting is stacking the odds in cancer's favour.
"With the number of people being diagnosed with cancer set to rise, a strategy on how the health service in Northern Ireland will cope with increased demand is more urgently needed than ever."