Belfast chip shop owner says tablets order reaction 'crazy'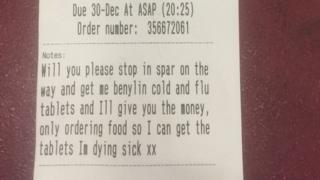 The owner of a Belfast takeaway shop that delivered medicine to an ailing customer, along with their dinner, has said reaction to it has been "absolutely crazy".
Feeley's Fish and Chip Shop revealed the unusual request on its Facebook page on Friday.
The post has been liked more than 11,000 times and has attracted over 1,000 comments.
Alan Feeley said they had since received further unusual requests.
"We've had a few strange comments since, but we just ignore it and carry on," he told BBC Five Live.
The online order asked the driver to stop and get cold and flu tablets.
"I'll give you the money, only ordering food so I can get the tablets Im dying sick," it added.
Mr Feeley said it came in on a busy Friday night and staff initially laughed, but decided it would be the right thing to get it for the customer.
"They ordered a pizza meal with it, but I think she was a bit under the weather, she wanted the tablets more than the food," he said.
"It actually stated that on the comments."
The shop also said on Facebook that they would send a free meal if the woman let them know when she is better.
She replied: "Yous are real angels will do."