New Year Honours: More than 100 Northern Ireland recipients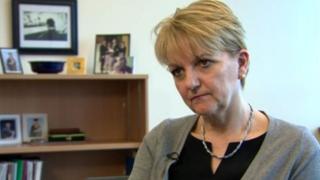 More than 100 people in Northern Ireland have been recognised for their achievements in the New Year Honours list.
Professor John McCanny of Queen's University, Belfast, gets a knighthood.
Ex-NI Prison Service director Sue McAllister and leading civil servant Leo O'Reilly receive Companions of the Order of the Bath.
In sport, there are MBEs for Northern Ireland football boss Michael O'Neill and swimmer Bethany Firth.
Derek McClure receives a CBE for services to mental healthcare and people with learning disabilities, as does Gerard McGinn, chairman of the Strategic Investment Board, for services to the Northern Ireland economy.
Police officers, charity workers, teachers and business people are also among those recognised on the honours list.
Mr McCanny is a professor in Electronics and Computer Engineering at Queen's University and Director of the Institute of Electronics, Communications and Information Technology based at Titanic Quarter.
Queen's University has described him as an "international authority in the design of silicon integrated circuits for digital signal processing, having made many pioneering contributions to this field".
He receives his knighthood for services to higher education and economic development.
Mrs McAllister was appointed director general of Northern Ireland's prison service in 2012 and became the first woman to hold the most senior position within a prison service in the UK.
Earlier this year, she announced she would be stepping down from the role.
Leo O'Reilly is the current permanent secretary at the Department for Communities in Northern Ireland. He previously held the same position at the Department of the Environment and the Department of Finance and Personnel.
Michael O'Neill helped Northern Ireland end a 30-year absence from tournament football by qualifying for their first European Championship, which was hosted in France earlier this year. The team reached the knock-out stages, after topping their group during qualifying.
In 2015, he won Coach of the Year at the BBC Sports Personality of the Year awards. Mr O'Neill gained 33 caps for Northern Ireland during his playing career.
Bethany Firth, from Seaforde in County Down, won three gold medals and one silver at the Paralympic Games in Rio in 2016.
She was Britain's most decorated medallist at the Rio Games.
The full list of Northern Ireland recipients is below:
Knighthood
Prof John Vincent McCanny
Companions of the Order of the Bath (CB)
Sue McAllister
Leo Columba Martin O'Reilly
Commanders of the Order of the British Empire (CBE)
Derek Andrew McClure
Gerard McGinn
Officers of the Order of the British Empire (OBE)
Lynda Ann Bonner
Sarah Browne
Dr Trevor Arthur Stanley Buchanan
Anne Marie Duffy
Samuel Bernard Goldblatt
Barry Martyn Lowry
Angela McLernon
Anthony Christopher O'Neill
Prof Sally Wheeler
Dr William Benjamin Wilson
Members of the Order of the British Empire (MBE)
Pastor Brian Cameron Agnew
John Allen
John Raymond Armstrong
Sandra Biddle
Alex Bunting
Helen Cole
Stella Cummings
Basil Dalton
Sister Rose Devlin
Simon Thomas Alexander Dougan
Edward George Elliott
Bethany Charlotte Firth
Wanda Annette Rowan-Hamilton
Robert Welby Henry
Isabella Bell Hogg
Michael Holden
Albert Maurice Leathem
Lily Lewis
Kenneth Robert Logan
Elvira Jean Lowe
Margaret Ruth Mayne
Michael Patrick McAlister
Kathleen May McBride
William John McCann
Elma Leiper McCausland
William Graham McCrory
Brenda Morgan
David Hugh Neill
Avril Esmond Sandra Nicholl
Robert Hamilton Northridge
Michael Andrew Martin O'Neill
Thomas Neville Orr
Paula Ann Philpott
Mervyn Quigg
Medallist of the Order of the British Empire (BEM)
Florence Evangeline Baxter
Dr Lavinia Boyce
Valerie Brown
Aidan Campbell
Pauline Alice Frances Carson
Valerie Lexena Christy
Albert Clyde
Brenda Mary Corry
Eveline Cousins
Rosemary Letitia Margaret Craig
Iris Ruby Crawford
James Ivan Davison
Jean Doak
Rosemary (Sarah Jane) Dunbar
Samuel Robert Wesley Elliott
William Charles Ferguson
William David McKee Flinn
James Gamble
Desmond Gordon
Violet Avril Constance Graham
Pauline Christian Grills
Joan Guiller
Anna Christina Maud Hamilton
Kathleen Hanlon
Sydney Dorcas Henderson
Richard Bryan Hool
David Alistair Jack
Canon Dermot Christopher Ledgard Jameson
Selwyn Johnston
Mary Knox
Matilda Maud Kyle
Stella Laughlin
Margaret Marshall
Edith McAdams
Mary Rosalind McCleary
Margaret McCullagh
Ann Elizabeth McGarrigle
Robert Arthur McGonigle
Michael Francis McGreevy
Tom McKenna
Myrtle Elizabeth Meeke
John Scott Mitchell
William Isaac Morrow
Terence Alexander Munro
Ethel Oldcroft
Ann Orr
William Edward Raymond Orr
Jean Elizabeth Beatrice Patterson
Maureen Elizabeth Sherman
Maurice Samuel Simpson
Florence Elizabeth Ann Tinsley
Gabriel Gerard Trueman
William Robert Andrew Wilson
Queen's Police Medal (QPM)
Inspector Robin Gouk
Sergeant Samuel Hoey
Detective Chief Inspector Anne Marks