'Let's hug it out' - Star Wars fans pay tribute to Carrie Fisher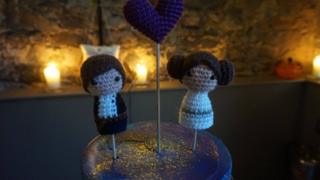 Star Wars superfans have been paying tribute to the US actress Carrie Fisher, who died on Tuesday, four days after suffering a heart attack on a flight.
She was best known for her role as Princess Leia in the Star Wars films.
One of her biggest fans was Claire Brown from Belfast, who took her Star Wars super fandom to the next level.
She and her husband Alistair had a Star Wars themed wedding in October 2016.
It was complete with Stormtroopers, Darth Vader and even a little knitted Princes Leia and Han Solo on top of their wedding cake.
'Very different princess'
Claire spoke about what Carrie Fisher and the character of Princess Leia had meant to her on BBC's Evening Extra on Wednesday.
"She was such an inspiring character for young woman - she put Han Solo in his place," she said.
"She was a different being altogether - a very different princess."
Claire and her husband had just come out of seeing Star Wars: Rogue One at the cinema for the third time when they heard the news.
"My husband grew up with Star Wars - he's the mega fan," she said.
"It's now a very special thing for me too and something we've bonded over."
'Hug it out'
Also on Evening Extra was Star Wars vlogger Vanessa Vanhorn from Dublin.
She told the programme she had reacted "very badly" to the news of Ms Fisher's death.
She met Carrie Fisher at a Star Wars celebration in London in July 2016.
"I had gone over and decided to get a photo-shoot done with her and Mark Hamill who played Luke Skywalker," she said.
"Carrie was the one who really left her mark with me.
"When I went in she was sitting on a chair - she was the tiniest person you've ever seen in your life. She was so delicate looking.
'Made my day'
"When I came up to her I said 'Is it ok if I hug you?' and she put her hands up to me and said 'Come on sweetie, let's hug it out.'
"I told her she was stunning - and she took my hand and said, 'That has made my day'."