Belfast Christmas market: No-one else involved in stabbing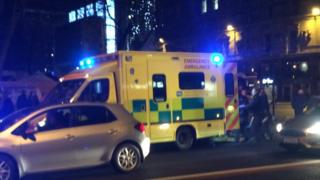 No-one else was involved in the injury of a man who suffered stab wounds near the Christmas market in Belfast, police have said.
Police attended the scene on Donegall Square North on Wednesday night.
A spokesperson from the Northern Ireland Ambulance Service said it received a call to attend to the man at about 19:45 GMT.
They said the man is thought to be in his 40s.
In a statement on Thursday, the police said: "Whilst police are at the early stages of the investigation, police do not believe at this time that any other person has been involved in this incident".
They confirmed that no crime was committed.
On Wednesday night, witnesses described what happened.
One woman who saw the man lying on the ground, near the stalls at the entrance to the main market, said she and her children were badly shaken.
"The man was bleeding badly and it was chaotic when everyone spotted him," she said.
"The police seemed to jump from nowhere and the paramedics arrived quickly, they did a great job of keeping everyone calm. For a moment everyone was scampering away and my children were very afraid.
"I didn't see what happened to him, just him lying on the ground and bleeding."