Omagh bomb evidence to be heard partially in secret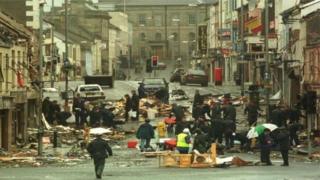 Belfast's High Court has allowed some evidence connected to the 1998 Omagh bombing to be heard in secret.
The government had applied for a "closed material procedure" (CMP) for a judge to examine whether public disclosure of information would be damaging to national security.
Having viewed a sample of sensitive documents, the judge ruled that a CMP would be allowed.
Twenty-nine people died in the Real IRA attack.
Omagh bomb timeline
The ruling was part of an ongoing legal challenge by the Omagh families to overturn a government decision not to hold a public inquiry into the 1998 atrocity.
In 2013, the then Secretary of State, Theresa Villiers, said she did not believe there were sufficient grounds to justify a further inquiry beyond those that had already taken place.