CCEA apologises over wrong scores in maths tests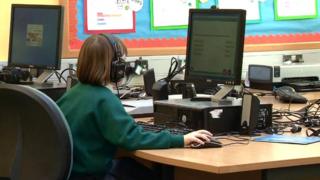 An NI education body has apologised after primary school children received the wrong scores in maths tests.
Some 17,000 out of 24,000 children who sat the NI Numeracy Assessment (NINA) tests this autumn received lower scores than they actually achieved.
The Council for the Curriculum, Examinations and Assessment (CCEA) said that the third party supplier of the tests was responsible for the error.
The tests are used to assess maths skills and progress of pupils in P4-P7.
The CCEA said it was apologising "unreservedly" for the mistake.
Both the computer-based NINA and Northern Ireland Literacy Assessment (NILA) tests were the subject of a critical Department of Education review in 2014, following widespread technical problems experienced by pupils taking the tests.
Following that, the then education minister John O'Dowd said the tests were not mandatory for schools.
However, a substantial number of primary schools - 267 - still use them.
In an email to school principals on 19 December, CCEA said that the supplier had initially told them that there was no problem with the tests.
However, it was eventually discovered that there was an error "in the software used to calculate the final scores for a number of pupils taking the assessment".
"The error has been rectified and the correct scores have been generated by the supplier," the email continued.
"In all cases, the correct scores will show higher performance than previously reported."
The chief executive of the CCEA, Justin Edwards, said that the quality of the service had fallen short of expectations and apologised unreservedly for any distress the error had caused.
"Children do not need to retake assessments for correct scores to be calculated," he said. "All schools that elected to take the assessments are being contacted and supported at this time."
The results of the literacy tests are not affected by the error.
However, one school principal who contacted the BBC said that the maths results were very important.
"The test will have led to children being moved between learning groups, and we will have met parents to discuss concerns about their child's maths results," they said.
"Seven out of 10 children in our school were affected and their marks rose significantly when the amended scores arrived today.
"It was a massive jump which completely changed the perception of their performance. It is difficult now to see schools having confidence in these tests going forward."
Education Minister Peter Weir said he was disappointed by the error.
"I will want CCEA to explore what actions it can take and what penalties should be considered in respect of the relevant supplier to ensure that such occurrences do not happen again," he said.
"I am currently considering the future of Computer Based Assessment (CBA) policy and will make a decision on the future of CBA in the New Year."
The Department of Education also confirmed that the yearly cost of the maths tests was £200,000.