Man in 50s dies in Holywood house fire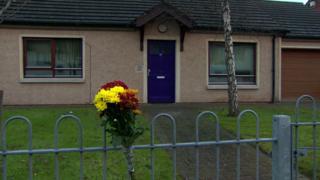 A man in his 50s has died following a fire at a house in Holywood, County Down.
It happened in the East Link area of the town at about 09:20 GMT on Saturday.
The man was found dead at the scene by emergency services.
Caroline Watts, a neighbour of the victim, said he was "a very nice gentleman" who used a wheelchair.
"My neighbour across the road noticed the windows blackening and the neighbour at the back noticed the windows blackening," she said.
"Then they realised it was smoke, so they contacted the fire brigade who came out to the house and unfortunately had to put the door in and discovered Carson had died inside from, we presume, smoke inhalation and his little dog died with him.
"So we're very, very devastated."
DUP assembly member Gordon Dunne said he was shocked and saddened by the man's death.
"This tragedy has left a real sense of grief and sadness within the local community particularly as we approach the Christmas period," he said.
"This is a close knit community and a tragedy such as this is felt right across the community."