Executive budget presentation postponed until new year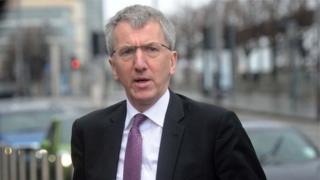 The executive has postponed the presentation of its 2017/18 budget until early in the new year.
Finance Minister Máirtín Ó Muilleoir had been expected to bring the budget to the assembly on Monday.
Speaking after an executive meeting, he told the BBC "we haven't made enough progress to bring the budget to the assembly".
A new budget date has not been specified but Mr Ó Muilleoir said it would happen as early as possible.
MLAs will return to Stormont on Monday for an urgent discussion of a botched heat scheme that could cost taxpayers £400m.
First Minister Arlene Foster and Deputy First Minister Martin McGuinness asked the Northern Ireland Assembly speaker to "convene a special sitting" in relation to the Renewable Heat Incentive (RHI).