Elderly man taken off bus after becoming ill 'refused medical help'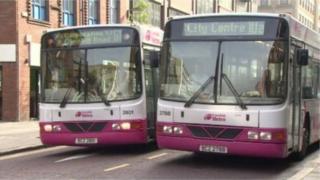 An elderly man who was reportedly taken off a bus and left at a bus stop after becoming ill refused further medical help, Translink have said.
A passenger had complained that the man was left without assistance after being taken off the bus.
Colleen Lavery said she was "disgusted" by how staff handled the situation.
Translink said staff offered to help the man after he got off the bus but he "appeared to feel better and refused any further medical assistance".
Ms Lavery told BBC News NI that the incident happened on the 1F Metro service last Friday.
She said two Translink staff helped her to get him off the bus at Royal Avenue in Belfast.
But, once off the bus, she said she thought Translink staff were handling the situation and the man was "coming around", so she slowly started to made her way to work.
When she looked back a few minutes later, she said she saw the man standing alone.
"I couldn't believe what I was seeing, the man clearly needed medical assistance and I assumed the driver would call an ambulance," she said.
"I went back to the man who didn't know where he was and was vomiting.
"He was in no state to be left alone, so I called the ambulance."
An ambulance service spokesperson said a paramedic was sent to attend to the man at about 09:20 GMT on Friday.
Ms Lavery said: "I hate to think that if I wasn't there this man would have been left alone in such a fragile state.
"He was close to the age of 80 and I haven't stopped thinking about him since.
"I can only hope that if anything like this happens again he will receive kinder treatment."
In a statement on Thursday evening, Translink said it had completed an investigation into the incident.
"The driver and another member of staff became aware of the gentleman's distress and took steps to get him off the busy, crowded bus.
"After offering him some care and assistance, the man appeared to feel better and refused any further medical assistance.
"We take the safety and welfare of our customers very seriously and are satisfied that all procedures were followed to ensure the welfare of this customer.
"We have also followed up with the lady who did offer some further help to the gentleman concerned to provide her with more information on this incident."