Border checkpoints 'obvious' targets, says PSNI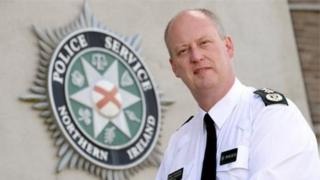 Checkpoints on the Irish border would be "static and obvious" targets for dissident republicans, the PSNI Chief Constable has said.
George Hamilton was giving evidence to the NI Affairs Committee which is looking at the future of the border following Brexit.
Mr Hamilton said he did not think police checkpoints were likely, however.
He said any border controls were more likely to relate to customs.
He said the PSNI's Brexit priority was preserving information sharing arrangements with the Republic of Ireland and replacing the European Arrest Warrant.
He added that this may need new legislation or bi-lateral arrangements.