Beloved toys of Christmas past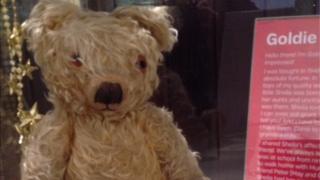 Here is a tale of two bears.
Like the town mouse and his country bumpkin cousin, Goldie and Bruno were born worlds apart. One was an uptown, up tempo teddy and the other was a downtown, downbeat bear.
They both grew up in London after World War Two and both shared the same little girl's arms.
Sheila Seymour held on to her beloved teddies long after she grew up, gave her bear hugs elsewhere and eventually settled in Northern Ireland.
But some loves are for life.
Now her bears - not too far off 70 years old - are starring in a toy exhibition at North Down Museum.
Goldie, a Merrythought bear, was bought in 1948 in Harrods for "an absolute fortune". Sheila's godparents, aunts and uncles clubbed together to buy the posh bear. He can still grunt, even at 67 years old.
Bruno was not born with a silver spoon in his mouth. He was also bought in 1948 for baby Sheila. It was in London just after World War Two: Times were hard. Bruno was made of surplus army blankets, leftover parachute "silk" and his stuffing was straw.
Over the years, he lost an eye when Sheila was whizzing him around her head during a game of helicopters, but he got a new one, albeit a glass one.
But both bears saw their girl through post-war London pea-souper fogs, a very bad case of chicken pox and measles when they all holed up in a darkened room because daylight hurt so much.
Toy stories
If toys could talk what stories would they tell?
Heather McGuicken, the museum manager in north Down may have the answer.
She has put together "Toy Stories" - a selection of treasured toys. People raided their attics for first loves that came courtesy of Santa.
There are toys like Sheila's teddies that hark back to the middle of last century and there are more modern legends, like the Harry Potter lego.
"We have a Fisher Price toy garage," she said. "Everybody seems to remember that."
But there is also the big plastic house, the school and the record player: Captain Scarlett and the Thunderbirds toys also figure.
"The exhibition includes a lot of 1980s plastic fantastic toys," she said.
Local mayor, Alderman Deborah Girvan, kindly handed over her treasured black baby doll who sits in a pram at the museum.
"She called it Eartha after Eartha Kitt," said Heather.
Broccoli Babe
Everyone has a favourite childhood Christmas memory.
BBC reporter Louise Cullen remembers one magical December when there were rumblings down in the allotment.
"It was the year of Cabbage Patch dolls. My sister and I had set our hearts on them, but Santa was having a hard time making all the children's wishes come true," she said.
"We rushed down stairs on Christmas morning and there were our dolls. Santa could not get his hands on Cabbage Patch dolls so he gave us Broccoli Babes - one each. We loved them anyway."
The poor relations still reside in the Cullen family home attic.
Journalist Claire Noble has a distinct memory of a Christmas long ago.
"I had my heart set on Operation - the game where you remove the patient's various organs without making the little light on his nose flash and the body buzz," she said.
Santa was having big trouble meeting demand that year too.
"I got Operation," she said."But it was the worst set of Operation I had ever seen. The little scalpel did not work properly and you couldn't extract the heart out."
It was years later that her father revealed he'd had to step in to help Santa find Operation - and he could only get his hands on a second hand neighbour's version that did not quite work.
Did that put paid to a future in green scrubs? Perhaps.
Thunderbirds are go!
And me? It's Christmas 1969 - Neil Armstrong had taken his giant leap for mankind as Michael Collins sat up in space in Apollo 11, twiddling his thumbs as Neil and Buzz made history.
The Beatles had given their last public performance on the roof of Apple Records. We loved them, yeah, yeah, yeah. Back in my home town of Ballymena, my big sister was holding out for love beads and a chemistry set for Christmas.
I was eight and Santa was coming to ours... and that was the year of Tin Tin.
She was not just any old doll. She was a feisty doll with attitude. She was a Spice Girl in the days before Sporty, Ginger, Scary, Posh and Baby were twinkles in their daddies' eyes.
I flew down the stairs on wings of joy that Christmas morning and there she was. She had long straight gleaming black hair in the days before GHDs.
She had big blue eyes and she got to wear trousers in the days when nice women did not wear them to work or Church.
Tin Tin was not just a pretty face. She had brains and looks and trousers and Alan Tracy fancied the socks off her.
Once she was filmed smoking a cigarette - it was when her old boyfriend turned up on Tracy Island and he was F.A,B, (Thunderbirds fans will understand) and Alan was not amused.
I loved Tin Tin for her perfect hair and her lion heart. I love her still.
Somewhere up in our attic, she waits for the touch of a tiny hand and those familiar words: "Thunderbirds are go!"