Sinn Féin Gerry Adams rejects protecting sources criticism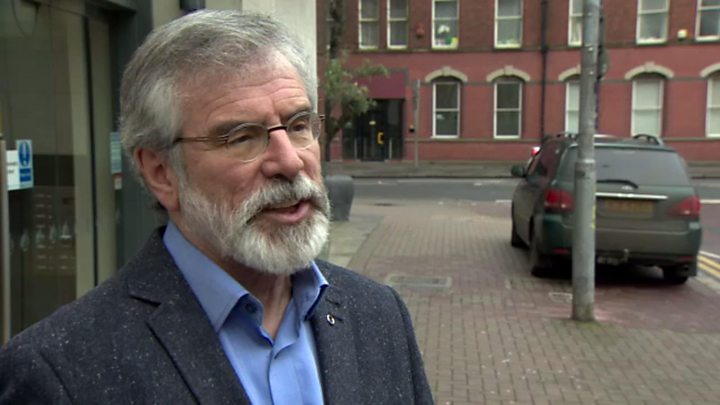 Sinn Féin's Gerry Adams has rejected criticism of why he will not reveal information on the IRA murder of senior Portlaoise prison officer Brian Stack.
The UUP's Doug Beattie has described as "perverse" Mr Adams' comments that his refusal to name IRA figures was like journalists refusing to reveal sources.
Mr Stack, chief prison officer at Portlaoise Prison, was shot in the neck as he left a boxing match in 1983.
He was left paralysed and died 18 months later.
"You're a journalist, you protect your source, I'm about the business of making peace," he told BBC News NI.
"I listened to a journalist yesterday from the Irish Independent being asked who gave him the email which I sent to the Garda, he says 'I'm not going to give away my source'.
"I listened to another TD, Mattie McGrath, who said he was approached by a journalist say 'no I will not give away my source'."
On Thursday, Brian Stack' son Austin confronted Mr Adams during a Sinn Féin press conference and accused him of lying in the Dail (Irish parliament).
He said Mr Adams should give police the name of a senior republican with knowledge of his father's murder who met the Sinn Féin leader, Mr Stack and his brother Oliver.
Mr Stack told Mr Adams it would be an absolute disgrace if he didn't do so.
On Sunday, the UUP's Mr Beattie said: "There is something inherently perverse about a political leader who says he protects the identity of a source in the same way the media protect the identity of sources.
"The only difference being of course, is that Gerry Adams is referring to a murder, is an elected representative and the leader of a political party - Sinn Féin."