Q&A: Northern Ireland Ambulance Service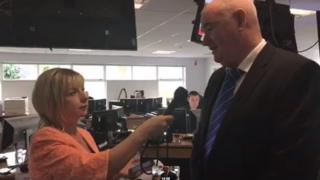 Last week, BBC News NI Facebook Live reported from Northern Ireland ambulance service's regional emergency control centre in Belfast.
Our health correspondent Marie-Louise Connolly conducted a live question and answer session with Brian McNeill, director of operations with the Northern Ireland Ambulance Service (NIAS).
Our viewers sent in more questions that we had time to broadcast, but as promised, we have followed up all the queries with management.
Here are the responses given to us by the NIAS:
Question from Anne Martin: Why are pay bandings for paramedics and emergency medical technicians not agreed yet. What is NIAS doing about it?
Answer from NIAS: NIAS has now exhausted its input under the Agenda for Change process and the process now sits with DoH (Department of Health) and RQA (Regional Quality Assurance) who have not yet advised us of the final outcome.
Question from AnnMarie Fearon: Wow!!! 'We haven't yet assessed the level of cover required.... targets missed for past four years but still it hasn't been assessed???
Answer from NIAS: The commissioners of Ambulance Services have requested that NIAS undertake a capacity review, with specialist expertise, to provide an evidence based approach addressing the issues of demand and capacity at its current level and also projecting over the next three years, taking account of potential changes in acute services.
Question from AnnMarie Fearon: How do staff apply to take part in this pilot? What additional training will be offered? News to us that its even happening!!!
Answer from NIAS: This project is at a very early stage. It is in partnership with Cooperation And Working Together (CAWT), National Ambulance Service (Republic of Ireland) and Scottish Ambulance Service. Participants for the pilot will be recruited through normal open recruitment processes. Funding has been identified for two posts relating to NIAS participation.
Question from Paul McMillan: Just think of the scores of folk that have retired early, switched to part-time hours or left the job completely. How are they to be replaced with IHCD (Institute of Health and Care Development) training withdrawn, no paramedic degree in place and FutureQuals still not implemented? Perhaps meaningful progress is just around the corner???
Answer from NIAS: Work is currently ongoing to scope options for provision of paramedic training for NIAS to cover future requirements and will include 3rd level education programmes.
Question from Emma Kirkpatrick: Why is there no paramedic training programmes in Northern Ireland?
Answer from NIAS: See above.
Question from Nicola McCourt: What about higher level education for paramedics?
Answer from NIAS: See above.