Concerns raised over Northern Ireland air ambulance service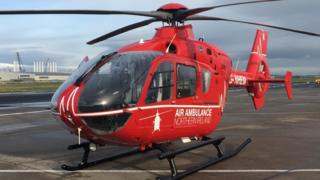 A group of emergency medical specialists have written to the health minister over concerns about Northern Ireland's air ambulance service.
The service is due to be fully operational by March of next year.
The specialists from around the world have written to Michelle O'Neill to voice concerns the helicopter service will not have a doctor on board when it is launched.
They are worried it could initially be staffed only with paramedics.
The campaign for the air ambulance was begun by motorcycling medic, the late Dr John Hinds.
The experts say a service without a doctor on board would fall short of what Dr Hinds had called for.
They say a doctor needs to be on board in order to provide the best life-saving care possible.
A spokesperson for the Department of Health said planning for the helicopter emergency medical service is moving forward.