NI Troubles legacy: PSNI processes 'too complex'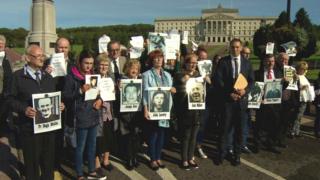 PSNI processes for disclosing sensitive material for use in legacy inquests are too complex and convoluted, according to an inspection report.
It said the police are fulfilling their legal responsibility to disclose material to the Coroners Service.
But it said delays are caused by police sending and redacting too much information.
It added that some of this information isn't relevant or is already in the public domain.
The Criminal Justice Inspection report said the processes must be streamlined.
Legacy inquests refer to inquests to establish the circumstances of some of the most controversial killings of the Troubles.
"For those who have been bereaved, their desire for answers around how their loved one dies remains and their loss is compounded by the delays which currently exist," the chief inspector, Brendan McGuigan, said.
"Legacy inquest proceedings have, through time, become more adversarial rather than inquisitorial in nature.
"As a result, the processes to support the disclosure of sensitive and non-sensitive material in legacy inquests have become complex, convoluted, and risk adverse."
The PSNI has often been accused of obstructing legacy inquests by failing to provide material, or redacting too much of it.
Redaction means sections of documents, sometimes running to many pages, are blacked out to keep the information secret.
This report said the police are sending too much material to the Crown Solicitors Office, which checks it before it's passed on to the Coroners Service.
Volume of information
The inspectors say the system could be streamlined if lawyers acting for the coroner were more involved at an early stage and advised the police what material was relevant.
"This approach would ensure irrelevant material was excluded from the process, therefore reducing the volume of information sent to the Crown Solicitors Office for review and on to the Coroners Service," Mr McGuigan explained.
Criminal Justice Inspection also called on the PSNI to review the security classification applied to legacy documents.
It said documents and records held on legacy information systems retain their original security classification, even though some of them are more than 50 years old.
This means a document classified as "highly sensitive" in the 1970s is still regarded as such today, even though much of the information it contains is in the public domain through books and other publications.
"The PSNI at present neither confirm nor deny the accuracy of information which has entered the public domain by other than official means," Mr McGuigan said.
"This has caused mistrust and confusion amongst stakeholders. Inspectors suggest that the PSNI should review the security classification applied to legacy documents and link this with its approach to redaction."
The inspectors said existing arrangements for dealing with legacy inquests are "operating at capacity" and that further resources are needed.
They added that cross-departmental agreement is needed to provide the additional resources "deemed necessary to expedite existing legacy coronial inquests".