McGurk's bar bombing families 'to reveal cover-up'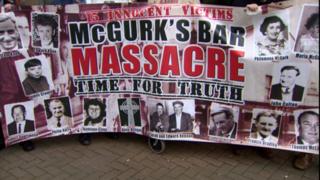 The families of the victims of the McGurk's bar bomb are to reveal what they say is evidence backing their claims of a cover-up by the government and the RUC.
Fifteen people were killed in the Ulster Volunteer Force bombing of the north Belfast bar in December 1971.
The victims' families have asked the chief constable to attend the event in Belfast on Tuesday night.
Human rights lawyer Michael Mansfield will be the guest speaker.
In 2011, a Police Ombudsman probe identified investigative bias in how the Royal Ulster Constabulary (RUC) handled the case.
It concluded that police failed to properly investigate loyalist responsibility for the north Belfast bombing because they were focused on the idea that the IRA was to blame.
But the Historical Enquiries Team later reached a different conclusion, claiming there was no evidence of any bias on the part of the RUC investigators.
Speaking ahead of Tuesday night's event, Robert McClenaghan, whose grandfather was killed in the attack, said: "It was deliberate, it was policy, the RUC started the lie of the Provisional IRA bombers - the RUC chief constable on 16 December.
"That's what we're saying, we now have the documents to prove that and the chief constable says he'll now take those documents away and consider them."