Fr Hugh Kennedy questioned about sex assault claim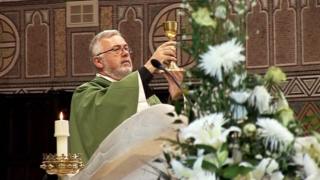 A Catholic priest who worked in west Belfast has been questioned by police after an historical allegation of sexual assault was made against him.
Fr Hugh Kennedy has been suspended from his ministry until the police investigation has concluded.
A spokesman for the Diocese of Down and Connor said it had been informed that the PSNI is investigating an allegation of "an historical adult nature".
He was interviewed last month but details emerged in a weekend newspaper.
'Innocence is presumed'
Fr Hugh Kennedy is former administrator of St Peter's Cathedral in west Belfast, but has not worked there in recent months.
He is also the founder of the cathedral's boys' choir, Schola Cantorum, which was the subject of a BBC Northern Ireland documentary series in 2010.
The diocesan statement said: "Bishop Noel Treanor has suspended the cleric's ministry pending a full and complete investigation.
"As with every person in such circumstances the cleric's innocence is presumed until the contrary is proven and he retains the right to his good name.
"The diocese cannot provide any further information whilst the investigation is ongoing."
A police spokesman told the BBC they would not confirm the suspect's name.
But Det Insp Zoe McKee told the Sunday Life newspaper: "Police investigating a report of a sexual assault allegation interviewed a male on November 7, 2016.
"Inquiries into this matter are ongoing," the officer added.