Car burned out and house damaged in Derry attack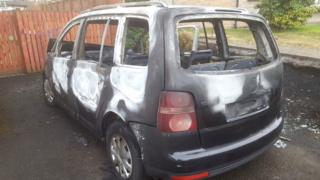 A family car with Christmas presents in the boot has been burnt out and a house damaged in an arson attack in Londonderry.
It happened at Temple Park in the city at about 00:30 GMT on Sunday.
The car was destroyed after being set alight in the driveway of the house. The fire also damaged drainpipes, guttering and roof tiles of the home.
Three children, aged seven, 11 and 13 were among the family members inside the house.
No-one was injured.
The woman who lives in the house said: "We have a family car that's completely wrote off - burned out - with a boot full of Santa's presents gone
"We have the side of a house burned - it could have been my children."
She said the family were awoken by a neighbour at about 01:00, who told them their car was on fire. The neighbour then took her children into their home to stay the night.
"They [the attackers] had tried two cars in the street already," she said.
"I don't know if something happened, or they were disturbed, but they set fire to our car and ran away and left the devastation.
"Within 10 minutes the entire car had exploded, the side of the house had caught fire, everything had caught fire."
Two men were seen acting suspiciously in the area at the time.
One was described as being about 5ft 10ins tall, with dark hair and he was wearing a two-toned puffa-style jacket with a fur hood. The hood and sleeves were dark grey in colour while the body of the coat was light grey.
Police have appealed for witnesses to contact them.