Downpatrick: Woman 'critically ill' after incident at house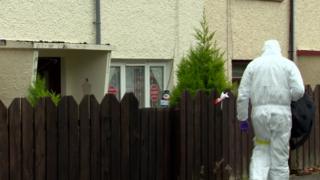 A woman remains critically ill in hospital following an incident at a house in Downpatrick, County Down.
It happened at Thomas Russell Park where it is understood she has been living with her young child for a number of years.
Police said a 30-year-old man had been arrested by officers investigating the incident, which was reported on Friday.
SDLP MP Margaret Ritchie said she hoped the woman would "fully recover from her injuries".
She said people in the area "were in a state of shock" and "appalled" at what had happened.
Ms Ritchie added that those people she had spoken to wanted to pass on their "sympathy and support" to the woman.