Belfast city centre student housing schemes sold for £40m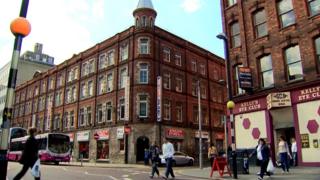 Two student housing schemes being developed in Belfast city centre have been sold to investment companies in deals worth over £40m.
The projects are the Athletic Stores building on Queen Street and a new-build development on the Dublin Road.
They are being developed by local company Lacuna Developments, in partnership with Welsh firm Watkin Jones.
The deals are what are known as "forward funding".
That means the investor pays now and gets the building on completion.
Anthony Best, the managing director of Lacuna, said both buyers are investing in Belfast for the first time and one is a major US fund.
He said the deals "illustrate confidence from institutional investors in backing Belfast's purpose-built student accommodation".
There is a substantial amount of student housing under construction or planned for Belfast, mainly around the Ulster University campus.
The first large scale scheme, John Bell House, began operating in September.
More than 1,000 student rooms are currently under construction for Queens University alone.
It is partnered with the developer McAleer and Rushe for schemes on College Avenue and McClintock Street.