Brexit: Ulster Farmers Union letter to PM calls for single market access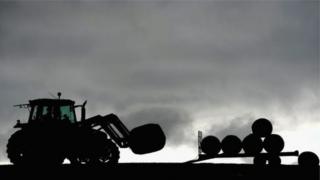 The Ulster Farmers Union has signed a letter to the prime minister that calls for continued access to the single market and European workers post-Brexit.
The letter was co-ordinated by the National Farmers Union (NFU).
It was also signed by 70 of the UK's largest food producers and grocers.
Other local signatories include Dunbia, Foyle Food Group, Linden Food Group and Mash Direct.
The companies said that as Britain's largest manufacturing sector, food production should be put "at the centre of negotiations".
The EU contributes about £250m a year to farmers in Northern Ireland.
In June, the UK voted to leave the EU although Northern Ireland voted to remain by a majority of 56% to 44%.