Carrickfergus: £1.6m bill for policing loyalist row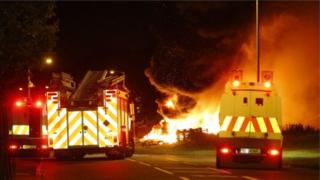 The PSNI has spent £1.6m policing a loyalist row in Carrickfergus, County Antrim, in the past five months.
Tensions have been raised in the Castlemara estate due to a dispute involving the South East Antrim UDA.
At a Policing Board meeting on Thursday, Ass Ch Con Stephen Martin said he was concerned someone was going to "end up hurt or dead."
17 people have been arrested on offences relating to criminal activity since May.
These offences involve the paramilitary organisation and include drugs, intimidation, and possession of weapons.
Nine people have been charged.
'Real cause for concern'
He said this was the reason why police officers are being sent in on a daily basis,
A number of searches have been carried out and two handguns seized, as well as cocaine, fireworks, and more than £5,000 in cash.
ACC Martin said the row in the estate was a "real cause for concern" and described the potential for violence as "extremely high".
He said there was no obvious criminal justice resolution and called for the parties involved to undertake mediation to solve the dispute.