Setback for Alternative A5 campaigners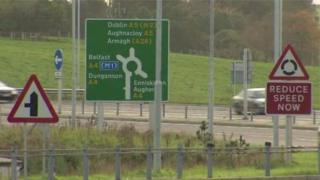 A campaign group has suffered a blow to its attempt to halt a multi-million pound dual carriageway project linking Counties Londonderry and Tyrone.
On Wednesday, the High Court dismissed claims that an ongoing public inquiry into the need for the road was flawed.
The decision marks a setback for those opposed to the planned 85km route.
Work on the new dual carriageway section is due to get underway next year, subject to the result of a public inquiry.
The opposition group, known as the Alternative A5 Alliance, are made up of farmers, landowners and others with an interest in the area.
They argued there is a requirement for alternatives to be examined by the Planning Appeals Commission (PAC) and accused the Department for Infrastructure of engaging in a charade.
Counsel for the department, said further PAC hearings in December will look at other options and enable objections to be voiced.
The judge said the commission must then prepare a report for the minister's consideration.
"I reject the suggestion that the inquiry is simply a sixth-form debating exercise," she added.
"That, it seems to me, does a disservice to its aims."