Dogs 'drowned, beaten and dumped in river'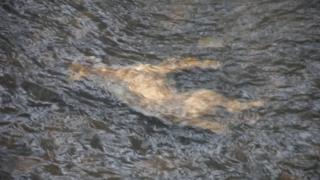 Three dogs found dumped in a river in Banbridge, County Down are thought to have been beaten and drowned.
The three young terrier-type dogs were spotted by a passerby in the River Bann on Sunday.
A spokesperson for the USPCA said the breed is sometimes used in illegal activities, such as badger baiting.
A source told the charity: "It's possible the dogs were pitted against badgers in a so-called 'chute' and have 'turned away' from the badgers.
"Dogs that do that are considered to be of no use and are often disposed of in ruthless fashion."
The charity said there was no evidence the dogs had been used to fight other animals, but they were "caked in mud".
It is believed they had been in the water for some time.
The USPCA is offering a £500 reward in the hope that somebody will come forward with information.
Anyone who saw anything suspicious in that area should contact either the police, the USPCA or the animal welfare Department in Armagh, Banbridge and Craigavon Council.
The stretch of river is close to Lawrencetown between Gilford and Banbridge.
A small road runs alongside it - and investigators think the dogs may have been dumped from a car.