PSNI make 'Boaty McBoatface' style appeal for police car name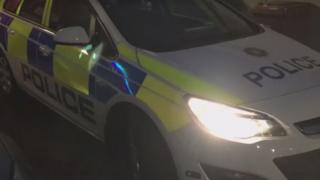 First there was Boaty McBoatface. Next came the Gritsy Bitsy Teeny Weeny Yellow Anti-Slip Machiney.
Now, an appeal is out for the public's brightest and best to name a brand new police car in County Down.
The four-wheeled machine of pure policed lightning is lacking a title, so PSNI officers in Banbridge made the appeal on their Facebook page.
"We got a new car, I can't remember the last time we got a new one not a hand me down," they wrote.
"What shall we name it?"
They're really asking for it, and so far the social media public have obliged in throwing out some arrestable efforts.
The Chaser, Speedy Gonazalez and Usain ("cause they all 'bolt' when they see you coming") focus on the raw, law power of car while one went for the suitably Christmas theme of Dasher.
Another student of history plumped for Lord Lucan because "you finally got him" while The Banbridge Beast, Saturday Night Destroyer and Constable Sirenator go for the full action movie effect.
Some riffed on the kind of the journey the car may occasionally take.
The Chippy Express, chimed one. "Duncan....Duncan donuts," another suggested.
The most popular name so far is Flashy McFlashy Face, although it has some way to go yet before it matches Gritsy Bitsy's viral smash earlier this month.
That suggestion on Twitter, in response to an appeal by Oldham council to name a new gritter, attracted almost 3,000 likes and more than 1,000 retweets.
PSNI in Banbridge added that the car has already seen action: "'Unnamed' just had her first back-seat passenger."
However, this night rider needs a nickname. So, if you think you can come up with the next Boaty McBoatface, let the Judge Revved PSNI officers in Banbridge know.