Banbridge bridge causes problems for second lorry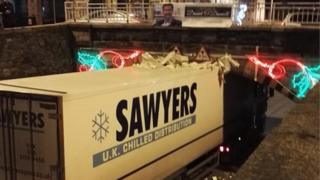 A lorry has hit a low bridge in County Down, just a day after another driver sliced the roof of his vehicle on the same bridge.
The 19th Century stone bridge, known as The Cut, is in the centre of Banbridge in Newry Street, which was closed to traffic on Monday night.
The lorry was stuck under the bridge, and no injuries were reported.
Police issued a warning after a lorry crashed into the bridge on Sunday but drove on, unaware of the damage.
On the PSNI's Facebook page, officers said: "This vehicle found out the clearance height of The Cut in Banbridge yesterday. It then drove on to Portadown, not realising the damage done. Not the smartest move."
They advised van and lorry drivers to "know the height of your vehicle and always check the marked clearance height of bridges before passing under them for the first time".