Christmas trees festival at Enniskillen church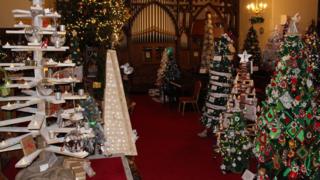 A church in Enniskillen, County Fermanagh, has celebrated the work of community organisations with a festival of 175 Christmas trees.
Each of the trees at Rossorry Parish Church was designed and decorated to represent the ethos and theme of charities, community groups, churches, schools and businesses throughout the county.
As well as traditional fir trees there were original designs, including trees made of peacock feathers and parasols.
Members of mental health organisation New Horizons spent hours crocheting a tree and decorations.
A music shop designed a tree out of guitars.
Another tree was made entirely from egg boxes.
The festival coincided with the 175th anniversary of the church.