Police attacked in west Belfast after car is stolen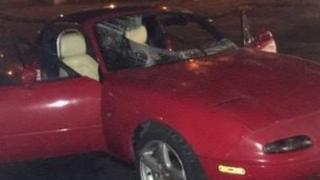 Bottles and bricks have been thrown at police by a crowd as they attempted to recover a stolen car in west Belfast.
Police said the vehicle was stolen from Galway Street at 19:15 GMT on Saturday and driven into the Divis area where a crowd had gathered.
They said that after a number of "reckless hand-brake turns" the vehicle was taken to Roumania Rise where an attempt was made "to burn it out".
This was prevented by police, they added.