Police condemn 'PSNI informers' leaflets left on cars in east Belfast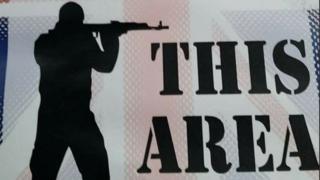 The PSNI has condemned leaflets threatening police informers which were left on cars in east Belfast on Friday night.
The flyers, featuring a gunman and a union flag, read: "All PSNI informers will be put out of this area."
In a statement, Ch Supt Chris Noble said it was a "cowardly attempt" to intimidate a law abiding community.
He asked anyone with information to come forward and said the PSNI's priority was tackling criminality.
'Impact'
"Police will continue to apply legitimate pressure to those who prey on local people and who attempt to exercise illegitimate power and cause fear," he said.
"Our focus on tackling criminality in east Belfast and all parts of the city will only be sharpened by this clear sign that community policing is having an impact."
The leaflets were also condemned by the Alliance Party.
"Once again we see faceless people using the cover of darkness to make threats against the community," Alliance MLA Chris Lyttle said.