Lurgan: 81 reported to PPS after un-notified parade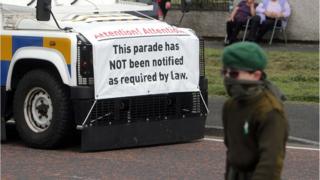 Police say they have reported 81 people to the Public Prosecution Service (PPS) as part of their investigation into an un-notified dissident republican parade in Lurgan, County Armagh.
The parade took place in the Kilwilkie area on Saturday 28 May.
Police said their investigation had concluded.
They said the people were reported for suspected offences including participating in an un-notified parade and wearing paramilitary uniform.
"This has been a complex investigation," PSNI Ch Insp Jon Burrows said.
"The arrests were as a result of the subsequent policing operation and concurrent investigation."
Twelve men were arrested in May following the parade and are included in the total of 81 people reported to the PPS.