Naomi Long: Alliance leader reveals skin cancer battle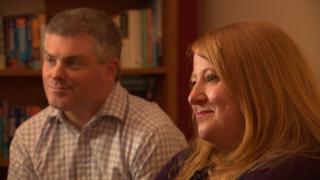 Alliance leader Naomi Long has revealed she was battling cancer during the height of the loyalist flag protests.
She told BBC NI's Spotlight programme that she had to have treatment for a malignant melanoma, but has been clear of cancer for over three years.
Mrs Long was sent death threats following a decision not to fly the Union flag over Belfast City Hall other than on designated days.
"A cancer diagnosis puts a bullet in the post into perspective," she said.
The East Belfast assembly member said she had noticed a mole on her wrist was bleeding.
It turned out to be skin cancer, a malignant melanoma - and she had it removed surgically.
"I had to go back for further surgery, where I had an additional part of my skin on my wrist removed around it, a sort of safe zone. And my arm then had to be reflected back and put in a cast to avoid me having a skin graft," she said.
She has regular check-ups and has had further moles removed as a precaution.
'Life after diagnosis'
She told Spotlight: "Whatever politics can do to you, whatever threats people can make, there is nothing quite as frightening as when your own body is working against you."
Her husband, Michael Long, who is an Alliance councillor, told the programme: "It was just pure devastation to find out that this was what it was, a malignant melanoma, and just that it had been there for a wee while.
"Obviously that was of real concern and really I think, at that stage, you're just wondering what was coming next to be honest with you between the flag stuff and everything else."
Mrs Long said that she did not talk about her illness at the time as she "wasn't seeking people's sympathy".
She said she was speaking out now to raise awareness of skin cancer and how early detection and treatment is crucial.
"A third of us, will face cancer at some point in our lives. And I think, we as a society need to talk about it more. We need to be better at supporting each other in terms of how we deal with it, and also we need to recognise the success stories," she said.
"Because there are success stories and we need to give people hope for the future and encouragement to believe that there is a life after a diagnosis."
You can watch BBC Spotlight's profile of the new Alliance leader on BBC One at 22.40 on Tuesday.