Irish broadcaster Gay Byrne diagnosed with suspected cancer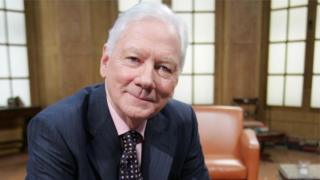 The Irish radio and television presenter Gay Byrne has announced that he has been diagnosed with suspected cancer.
The 82-year-old told listeners to his RTÉ Lyric FM show the news on Sunday.
"I shall not be with our listeners on this day next week. I have to go to hospital this week.
"They think they may have discovered a bit of cancer in the prostate and they think it may have moved up into my back," he said.
"I've had the most wonderful, fantastic, robust, good health all my broadcasting life.
"It's my turn now. Many, many people much worse off. Thank you for your good wishes," he added.
Mr Byrne is a veteran RTÉ broadcaster, having hosted The Late Late Show from 1962 until 1999.
He now presents Sunday with Gay Byrne on RTÉ Lyric FM.
"All Gay's friends and colleagues in RTÉ wish him a speedy recovery and look forward to welcoming him back in the coming weeks," said a spokesperson for RTÉ.