South Belfast: Man, 24, accused of hammer attack is granted bail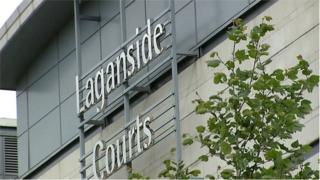 A man accused of attacking his father with a hammer and choking his brother until he lost consciousness has been granted bail.
Aaron Vize, 24, from Florenceville Drive, Belfast, faces six charges.
They include causing grievous bodily harm, assault and aggravated burglary at his father's home on 18 November.
The judge released him on condition that he lived as far as possible from his father's house in the Ormeau Road area.
A detective told Belfast Magistrates Court on Saturday that there was a history of incidents between Mr Vize and his father.
Mr Vize wept in court as he was released on his own bail of £300 with a surety of £500. He is barred from the Ormeau area and from alcohol and has been ordered him to keep a curfew and wear an electronic tag.
He was also warned not to contact any prosecution witness.
He is due before the court again on 16 December.