BBC Radio Foyle journalist found not guilty of rape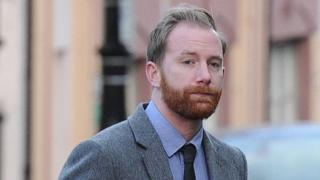 A BBC journalist accused of rape and sexual assault has been found not guilty of all charges.
A jury of seven men and five women delivered the unanimous verdict on day four of Sean O'Halloran's trial.
The 30-year-old from Northland Road in Derry denied raping a woman after a party at her home in May 2014, while her boyfriend slept downstairs.
Mr O'Halloran also denied two additional charges of sexual assault on the same date.
He told the jury that sexual contact between him and the woman had been consensual.
There were emotional scenes at Londonderry Crown Court when the jury delivered its not guilty verdict on all counts.
Mr O'Halloran, his mother and close family friends, cried and hugged each other when the judge told him he was free to go.
Afterwards, Mr O'Halloran declined to be interviewed, but his mother said they were relieved it was all over.