MLA condemns Coalisland threats to traffic attendant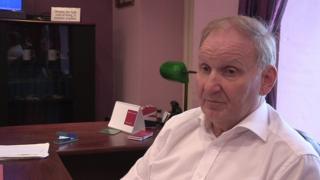 A DUP MLA has called for greater equality around the enforcement of parking legislation in rural towns.
Lord Morrow was speaking after it emerged that the first traffic warden to be deployed in the County Tyrone town of Coalisland was forced to leave within half an hour.
It is understood the warden was threatened by a member of the public.
The Department of Infrastructure confirmed that it was investigating reports of "an incident" last week.
Its officials have asked for a risk assessment to be carried out.
Lord Morrow first began investigating the number of parking tickets being issued in towns within his constituency in 2014.
He said the number in was unduly high in towns like Aughnacloy and Fivemiletown, while in Coalisland, not a single ticket had been issued in the over a six-year period.
"It seemed to me to be a free-for-all [in Coalisland]," said Lord Morrow.
"So we thought, why not have restrictions in that town also? There needs to be equality in the imposition and enforcement of parking regulations."
Expressing disappointment at the news that a parking attendant was forced to leave the town, he added: "It would be a very sad day for enforcement if people decide to take the law into their own hands and they determine where it will be enforced and where it won't."
There were mixed views about parking regulations among traders in the town - some told the BBC that the town benefits from having few parking restrictions, while others say the lack of enforcement makes driving through Coalisland difficult and deters some shoppers from entering it.
None of them, however, condoned threats against parking attendants.
Lord Morrow said those who intimidated the attendant showed no concern for the disabled, who cannot always access designated parking areas, and emergency services, who need a clear route through the town.