Ballymena pork plant, Dunbia, sold to English firm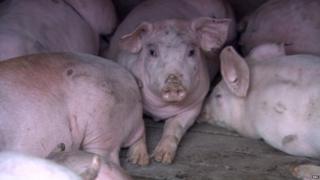 A Ballymena pork plant which employs 360 people has been bought by a company based in England.
Dunbia Ballymena processes 7,800 pigs a week at its facility. It has been purchased by Cranswick, a leading UK food company.
Adam Couch, Cranswick's chief executive, said the acquisition would enable his company to strengthen its UK pork processing business.
He said he looked forward to investing in the Ballymena plant in the future.
Exporting to China
Jim Dobson of the Dunbia Group said: "Dunbia Ballymena has been a very successful part of the Dunbia Group.
"It has worked tirelessly to create positive expansion opportunities and a sustainable supply chain for Northern Ireland's pig producers and the wider agri-food supply sector.
"Last year, we became the first company in Northern Ireland to export pork products to India, and we have also been working closely with DAERA and the Chinese government to secure access to China as an important new market."