Omagh: Backlash over school's tweet of thanks to PSNI officer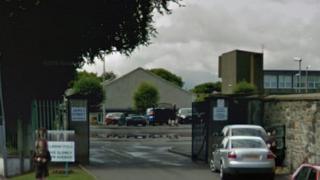 A row has erupted after a Catholic school in Omagh tweeted its thanks to a PSNI officer for briefing pupils about opportunities with the RAF cadets.
A PSNI officer visited Loreto Grammar School as part of a youth initiative.
Sinn Féin MLA Barry McElduff said he had been "inundated" by phone calls from "concerned and angry" parents and past pupils.
A spokesperson for Loreto said the comments were down to "misunderstanding."
The school orginally tweeted: "Thanks to Chief Inspector @PoliceServiceNI who informed Year 14 of opportunities with RAF Cadets #buildingcommunity"
Mr McElduff said the PSNI "must answer why it is promoting the British armed forces in school visits."
"Our schools should be places of learning where young people and others can expand their horizons and opportunities.
"They should not be used to recruit young people for imperialist conflicts and to be trained in warfare.
"I will be raising this matter with the PSNI and asking them to explain their actions," he added.
School Principal Grainne O'Hanlon said the talk had been "only one of a broad range of educational opportunities presented to the pupils for personal and skills development".
She added: "The school is aware of the interest generated by our Twitter feed thanking a guest speaker from the PSNI who presented to the pupils volunteering opportunities in a social and sporting skills development programme with the Royal Air Force Air Cadets.
"This is a youth initiative catering for all abilities, with members from across all faiths and communities. "
A PSNI spokesperson said: "The officer was invited to the school to provide information on a number of issues including employment issues focusing on careers advice, social media and online safety.
"Whilst there he was asked about the RAF Cadets, with which he is privately associated, and he responded to a number of questions.
"The officer attended the school in his own time, on a voluntary basis and no complaints were made."
Speaking on BBC's Talkback programme former army officer and Ulster Unionist MLA Doug Beattie said there was a degree of "fake outrage" involved.
"I know there are sensitivities about this and entrenched views about this and I can understand those views," he said.
"This is a youth organisation. Nobody who joins these cadets is expected to go on and have a career in the military.
"What it does do is it gives them an opportunity to get involved in avionics, possibly to fly gliders, it gives leadership and gives confidence. Nobody is forcing them to do it."