Rod Stewart meets Celtic superfan Jay Beatty in Belfast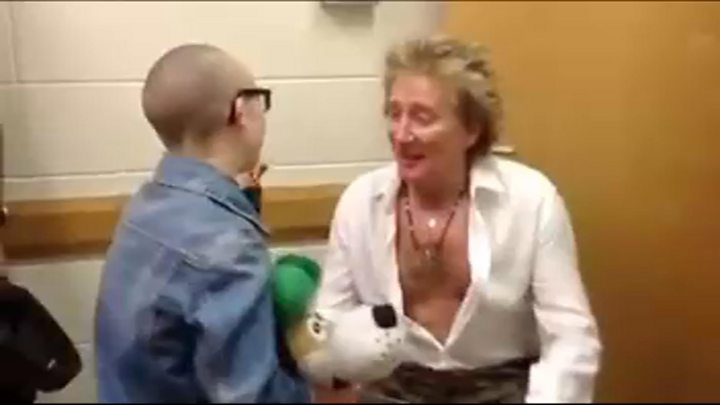 For Jay Beatty, it's just another hug from one of his famous fans.
The young Celtic superfan from Lurgan, County Armagh, met singer Rod Stewart on Monday evening after the first of two concerts in Belfast.
The singer met the 12 year old along with his mum and dad, Ainé and Martin before getting a hug from Jay.
His dad Martin posted the video on social media alongside the words: "What a night...dedicated "You're in my Heart" to my Bhoy."
The video has been shared thousands of times.
It's not the first time Jay has mingled with celebrities.
The meeting with Rod Stewart was set up by none other than Scottish singer Paolo Nutini, who Jay's dad describes as a "good friend to Jay."
"Paolo set up the meeting with Rod Stewart after Jay told him he liked him because he had lovely hair.
"During the concert an image of Jay flashed up on the big screen and Rod Stewart dedicated his song 'You're in my Heart' to Jay.
"After the show, we thought Jay might get to meet him briefly, but he sat and talked to him for about 30 minutes.
"As we were leaving, Rod came back and said 'My backing singers are all changed and they're dying to meet you.'
So Jay then met the whole team."
In 2012 Jay met Dr Dre, then in 2014 was carried around the pitch at Celtic Park by Greek striker Georgios Samaras well as meeting jockey AP McCoy and Ireland manager Martin O'Neill.
In 2015 Jay won the Scottish Premiership goal of the month award for January.
He was even guest of honour at the BBC Sports Personality of the Year Awards last year, so Rod is just another celebrity to add to the collection.