Nama: McGuinness to appear before Irish Public Accounts Committee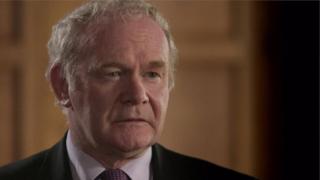 The Deputy First Minister Martin McGuinness is due to give evidence to Dublin's Public Accounts Committee (PAC) on Wednesday.
The PAC is investigating the £1bn sale of Nama's Northern Ireland property loan portfolio.
Nama is the Irish government agency set up to manage loans acquired from Irish banks after the property crash.
Ireland's auditor general found there were shortcomings in the sales process of the Northern Ireland portfolio.
Mr McGuinness has previously given evidence to a similar inquiry being held by Stormont's Finance Committee.
He told it that he had not been informed about meetings and contacts between Nama, bidders for the portfolio and DUP ministers.
Mr McGuinness was present during a 2014 conference call involving then First Minister Peter Robinson and the Irish Finance Minister Michael Noonan.
The call concerned the decision by Nama to dispose of the portfolio by auction, as opposed to accepting an unsolicited offer from the Pimco investment fund.
Mr Robinson has said he is not answerable to the PAC.
In a statement to the Press Association he said: "I have not received any invitation yet but constitutionally Northern Ireland ministers are not and should not be answerable to a Dáil committee for their actions.
"However, I would want to be helpful to the committee in carrying out its role.
"If they do want to contact me I'm sure we can devise another way to provide my views to the committee."