Belfast man Alfred Hannaway's death was 'tragic and needless'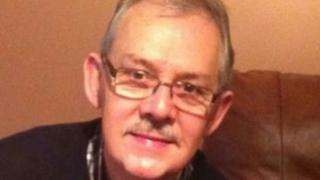 The death of a 61-year-old west Belfast man was "tragic and needless", an inquest has found.
Alfred Hannaway, a father of eight, died of a brain haemorrhage in 2013, weeks after a quadruple heart bypass.
Coroner Joe McCrisken said his death was due to an inappropriate dosage of the blood-thinning drug Warfarin combined with high blood pressure.
He did not criticise individuals and said the issue was the "disjointed and prone to errors" system.
During the two-day inquest, Belfast Coroner's Court heard Mr Hannaway, of Coolnasilla Park South, received a higher dosage of Warfarin than necessary after surgery due to a number of failings.
On discharge from hospital, the taxi driver was given a new "yellow book", used to record medication, which detailed his lower dosage.
However, his old book - which contained his higher dosage prior to his surgery - remained in his possession.
It was this book which was then used to calculate his dosage.
In his concluding statements, the coroner said he could not establish why there was a second book but the nurses involved his post-op care "had acted correctly considering the information available to them".
He said the district nurse had only taken one yellow book, and the staff nurse at the Warfarin clinic, based in Belfast City Hospital, only had sight of the old book and had not been told of Mr Hannaway's surgery.
He said had she seen the new book she would have realised surgery had happened, that his Warfarin dose had been reduced and would have made further enquiries.
The court heard that she knew Mr Hannaway was awaiting surgery and when assessing his dosage in September 2013, she did think about contacting him.
She said she did not want to disturb him and it was "with deep regret" that she did not phone him.
The clinic had also not received a discharge letter.
A barrister acting on behalf of the Belfast Health Trust said it had carried out an investigation after Mr Hannaway's death and had acknowledged deficiencies in communications. He said they had apologised.
The court heard that major lessons had been learned, including a new policy of never giving out a second yellow book. Instead, a temporary card will be issued when required.
The coroner acknowledged the changes but said further work needed to be done.
He also said Mr Hannaway's family had showed "great determination in the last three years in the search for answers".
The court had previously heard that Mr Hannaway was the "centre of their home", and he was very involved in GAA clubs and loved music.