Harlso the Hound: Belfast poised pooch finds internet fame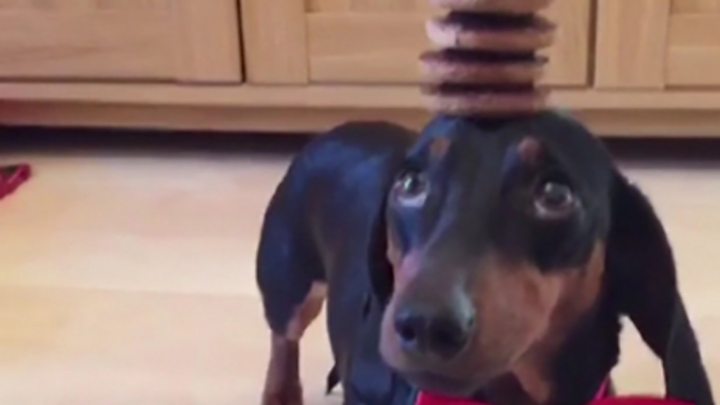 A dachshund from Belfast is becoming a global internet star after his owners shared his incredible head-balancing talent online.
Harley, affectionately known as Harlso, has thousands of fans on social media.
Belfast owners Jennifer Scott and Paul Lavery first discovered their two-year-old pooch's unlikely skill by chance.
But Harley now has fans across the world who send him gifts and toys to balance on his head.
"He just has the flattest head. He can't do any normal tricks, sit or anything. Balancing things on his head is the only thing he can do," said Paul.
"He loves balancing, some people message saying that he looks sad...but that's just his face! Its how they look! He loves it."
Speaking about their dog's surprise popularity, Paul said: "It's just totally taken off, when Jen first set up the instagram I laughed at her and asked 'Who is going to be interested in this?"
But within a couple of days 'Harlso the Balancing Hound' had around 100 followers, and his fan-base continues to grow.
Jen got Harley when he was four-months-old, the last puppy in the litter from a family in County Tyrone. His owners almost did not sell him.
She fell in love and took him home that night, but it was not until earlier this year that they discovered his unique talent.
Paul told Belfast Live: "It all started with a toy chicken and Harley was a natural."
They admit they're struggling to keep up with his popularity: "It's all a bit of fun but it's hard to keep on top of all the social media accounts- especially since Twitter has gone crazy."
"It's impossible to reply to them all... maybe we need to employ someone."
Fans of the pup send in their own attempts to rival his balancing act- usually it's dogs, but the couple even received one of a pet budgie.
The couple now hope to get Harlso the Balancing Hound a Guinness World Record for balancing the most treats on a dog's head.
Paul said, "Its all a bit of fun, but if any of the readers want to suggest something, he'll give anything a go."