Republican march: Images of children in paramilitary gear sparks concern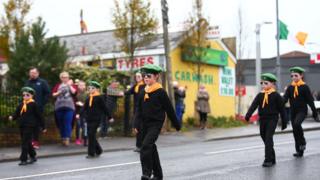 The children's commissioner has expressed concern over pictures of children dressed in paramilitary gear during a republican parade.
Koulla Yiasouma said she would be contacting the relevant authorities about child protection issues.
But it was the parents who had decided their children could take part in what was a legal parade, she added.
The Irish News reported that a number of children were involved in Sunday's march.
The event was in memory of a young IRA member killed by her own bomb.
Patricia Black, 18, died alongside Frankie Ryan, 25, when a bomb they were carrying detonated early in St Albans, Hertfordshire, on 15 November 1991.
'Disturbing'
During the parade in west Belfast, the children, including several pre-teens, were seen dressed in black uniforms with green berets. Their faces were partially disguised by sunglasses.
Northern Ireland Commissioner for Children and Young People Koulla Yiasouma said it was not "in a child's best interest to be involved in any display of paramilitary activity, in any community".
"In the absence of an agreed narrative on our history and full consideration of how we educate our children on the conflict, this sort of activity will fill the void," she said.
"I will be speaking to the relevant authorities, including the Parades Commission, to seek clarification that the right checks and balances are considered when children and young people may be involved in public demonstrations and events."
She added that her remit as commissioner was to make sure the police, social services and other agencies, were doing their job in terms of protecting children and young people.
The parade was approved by the Parades Commission and there was a small police presence.
A spokesperson for the Parades Commission said the participation of children in a parade was a "matter for parents and guardians".
"The commission's statutory code of conduct states clearly that no paramilitary-style clothing is to be worn at any time by any participant during a public procession," he said.
"The commission will take into account the conduct of past parades when considering future notices by parade organisers."
Sinn Féin's Gerry Kelly refused to condemn the pictures when questioned on BBC Radio Ulster's Nolan Show, saying cadets wearing British Army uniforms took part in commemorations.
DUP MP Gregory Campbell said it was "disturbing" to see young people taking part in a parade to remember "someone who died at their own hands as they sought to carry out murder".