PUP councillor attacked as youths 'defecate' on David Ervine memorial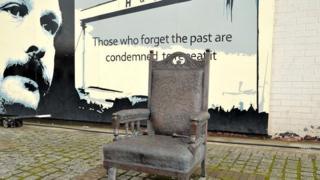 A councillor has said he was attacked when he tried to stop youths defecating on a memorial to the late Progressive Unionist Party leader David Ervine.
PUP councillor John Kyle told BBC News NI he confronted four youths at the memorial on east Belfast's Albertbridge Road at about 08:20 GMT on Sunday.
He said one was defecating while the others filmed it on mobile phones.
Mr Kyle said when he shouted at them, one of them kicked him off his bike and fled towards the Short Strand.
'Shame'
A PUP statement said their councillor followed the youths into the Short Strand and then reported the incident to police as a "sectarian hate crime".
Mr Kyle said it was a "shame" that such a thing would be done at all, but especially on Remembrance Sunday.
Mr Ervine led the PUP from 2002 until his death in January 2007.
He was a former member of the paramilitary group the Ulster Volunteer Force (UVF) and was a key figure in brokering the loyalist paramilitary ceasefire of 1994.
A police spokeswoman said officers were investigating an assault on a man in the Albertbridge Road on Sunday morning and a report of "attempted criminal damage to a memorial".